Go on a POWER TRIP with the
most powerful MFD series available.


We listened to you and worked tirelessly to make TZtouch3 the easiest MFD on the market to use…bar none. With edge-swipe features and single tap menu options, you're never more than a tap or swipe away from what you want to see or do. It's that simple.
It has all THE POWER you've wanted...and more.
• NEW "NavNet Command Center" allows control of up to five 3rd party devices using a built-in HTML browser
• Powerful quad-core processor for lightning-fast response
• Built-in Dual Channel 1kW TruEcho CHIRP™ (TZT12F/16F/19F only) & CW Fish Finder
• High-power 2/3/5kW* TruEcho CHIRP™ Fish Finder network amp (TZT12F/16F/19F only) 2/3 Kw requires DI-FFAMP and 5/10Kw requires DI-FFAMP and BT-5
• Power-packed 100W & 200W NXT Solid-State Doppler Radars
• Deep water Multi-Beam Sonar for up to 300m depth & 200m side scan
• Large 19″ and 16″ multi touch IPS display for maximum brightness
• Hybrid Control 12″ and 9″ display with RotoKey™ and buttons for added accessibility
• Pin Code Lock – require an optional password to access your TZtouch3 upon startup
*Requires optional DI-FFAMP: Connect a 5kW or 10kW transducer when using the BT-5, power output is 3kW; not compatible with TZT9F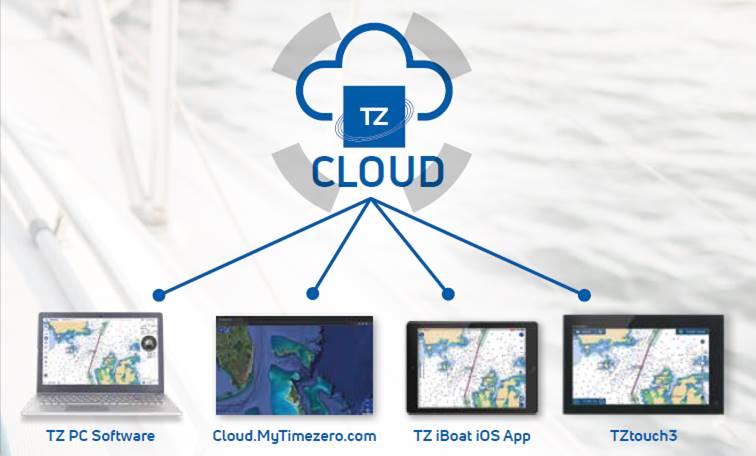 Never lose waypoints, routes or settings again with TZ Cloud.
Create your routes at home using TZ Navigator or TZ iBoat iOS App. Then you can retrieve them from the cloud & download to your TZtouch3. Also, create events on your MFD and retrieve them at home as the data is synchronized automatically & securely to My TimeZero. TZ Cloud also stores marks, routes, boundaries, photos, and catch data!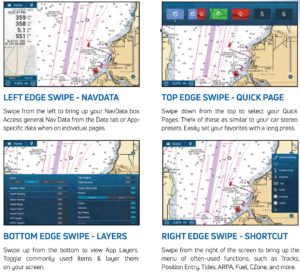 EASY to use, because finding your happy place should not be difficult!
We listened to you and worked tirelessly to make TZtouch3 the easiest MFD on the market to use… bar none. With edge-swipe features and single tap menu options, you are never more than a tap or swipe away from what you want to see or do.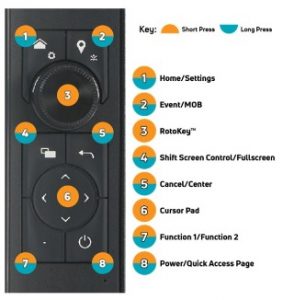 The return of Hybrid Control
Captains/Owners of smaller boats know that when you are crashing through the waves, it can be difficult to get an accurate tap on the screen. That is why we made a TZtouch3 MFD with Hybrid Control. You get the best of both worlds with a full multi touch display and a handy, built-in keyboard that features a Rotokey, cursor pad and dedicated buttons.
MapMedia Raster and Vector Chart Library.
Freely choose the charts that fit your individual needs. Easily select either raster, vector, or fishing charts. Mapmedia brings an authentic vector and raster chart library to your NavNet TZtouch3. "C-MAP" as well as "Datacore by Navionics" vector cartography are optional charts that can be easily unlocked. Mapmedia cartography integrates cutting edge algorithms with high resolution image processing techniques to deliver a fusion of digital navigation charts and satellite photography.
Satellite photography is included in the MapMedia raster and vector charts, simply called Satellite PhotoFusion™. Land areas (zero depth) are completely opaque, displayed as satellite photos on the chart. As the depth increases, the satellite image is merged with the chart data to provide you with added detail on seabed areas in shallow water without losing vital chart information.
CMOR's high-resolution, shaded-relief bathymetric bottom images help navigators identify suitable locations for fishing and diving.
Build the ultimate Navigation Suite.
The beauty of NavNet TZtouch3 is its scalability – systems can be as big or small as you need. Add, change, or remove AIS, VHF, compass, weather and other sensors as needed to dial in to your dashboard, whether fishing, cruising or sailing.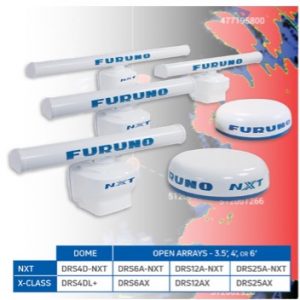 More power means better detection of all the targets around you!
Are you ready to go on a Radar power trip? Nowhere else will you find Radar as powerful or with the amazing target detection of Furuno's NXT and X-Class Radars. We increased the power of our NXT Solid-State Doppler Radars to give you outstanding long-distance performance that matches their amazing close-range ability.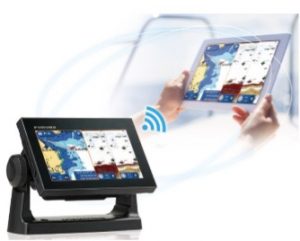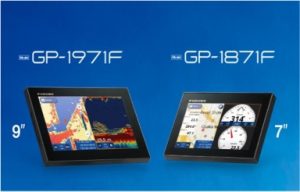 7″ & 9″ Multi Touch GPS/WAAS Chart Plotter with CHIRP and Conventional Fish Finder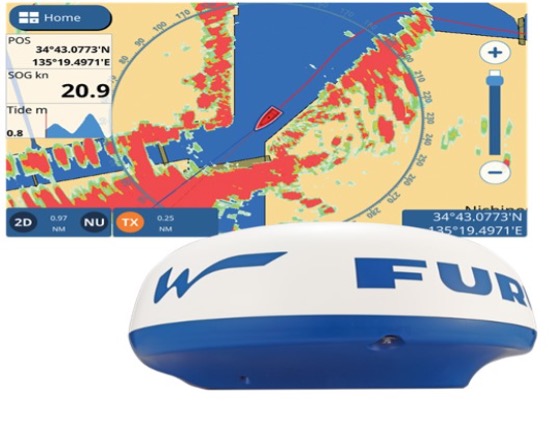 Wireless Radar Connectivity
Radar can be overlayed onto the Chart Plotter display via wireless connection to the Furuno DRS4W 1st Watch Wireless Radar. The DRS4W's wireless configuration makes it a breeze to add the compact 19″ Radar dome to any vessel. The DRS4W can also display the Radar presentation on a connected smart phone or tablet, offering a major upgrade in safety and versatility.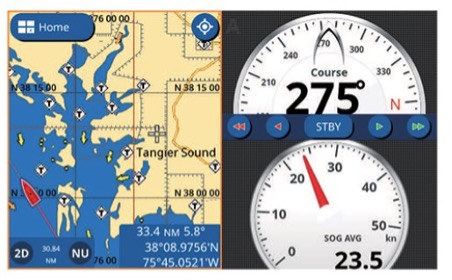 Autopilot Control
When connected via the CAN bus network interface, The NAVpilot 300 and NAVpilot 711C can be connected to the GP1871F and GP1971F and controlled directly from the Chart Plotter.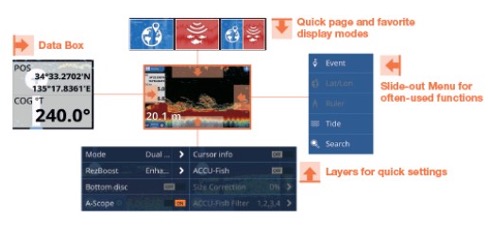 Multi Touch Interface
The all-glass, multi touch display gives you access to every feature via convenient and intuitive slide-out menus. Slide your finger down from the top of the display to select Quick Pages, including your favourite custom display modes with a single tap. Slide out from the left to view customized Data Boxes. Slide up from the bottom to quickly adjust your layer settings. Finally, slide your finger out from the right side to instantly access the menu functions you use the most. Tap or double tab the display with two fingers to capture a screen shot or perform other customized functions. Everything in the menu is intuitive and contextual, so the content relates to the current display mode.
Find your local Furuno dealer for more information:
For more information about any of our products, please speak to your dedicated Furuno dealer today.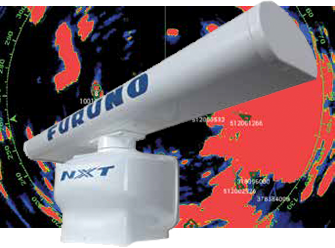 Furuno NXT Solid-State Doppler Radars pack power like never before. From the DRS4D-NXT dome to the new 200 Watt DRS25A-NXT open array, you will get dynamic features like Target AnalyzerTM, Fast Target Tracking, Bird Mode, and Rain Mode.
(Some features may require additional sensors)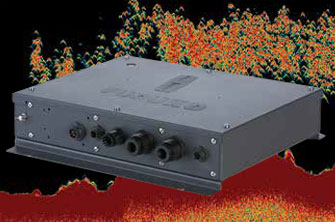 High-Power TruEcho ChirpTM Fish Finder Amp
Introducing Deep Impact – DI-FFAMP, a new high-power TruEcho CHIRPTM Fish Finder amp designed specifically to work with NavNet TZtouch3. This 2kW or 3kW TruEcho CHIRPTM Fish Finder amp gets you down to the deepest waters to find your catch. You can even connect a 5kW or 10kW transducer!.
(BT-5 required for 5kW/10kW transducers; DI-FFAMP not compatible with TZT9F)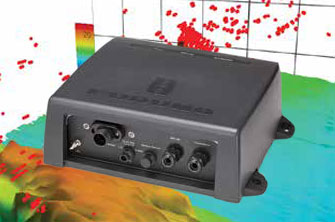 Deep water multi-beam sonar
Imagine real-time 120˚ port-starboard up to 200m (over 650 ft.) depth and viewing of the water column and seabed directly under the boat 300m (nearly 1,000 ft). The DFF-3D allows you to explore fishing spots and find fish in deep water faster than conventional single beam Fish Finders.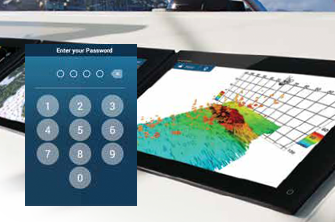 The new PIN CODE Lock feature allows you to optionally require a four-digit password to be entered upon startup, keeping your data safe against theft.
Complete your details to download our latest brochure...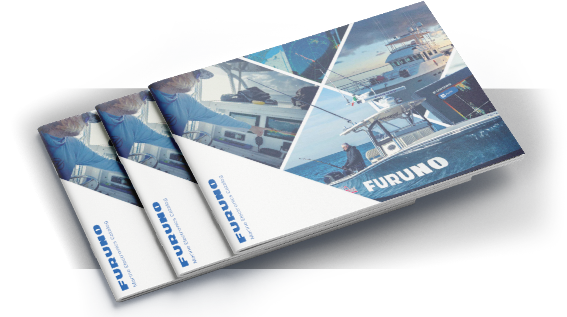 Join our Mailing List today and keep in the know with Furuno...